The balboa rv park is more than campground
Camping is,
more
than anything for those who love roam & explore new places. The
balboa
RV Park- one of the reputed & well-known RV Parks that wants to be your travel campaign during camping throughout camping Southern
California.
.
Have a look our genuine testimonials that can build your trust more with us:
"BUSY LITTLE PARK"
"We arrived and could not believe how packed this place was. So I would book ahead if you can. The staff and owner are lovely and really give you great service. The bathroom is clean and fresh. The only negative is the is street and plane noise every now and then, but you are in a major city so it is to be expected". ~ Stayed January 2015, traveled with family
"Awesome"
"Steve drove us down to the Metro was really helpful. And the daughter told us about uber so we could get to the filming studio so we can see the how TV programs are made I would recommend the campsite to everyone and definitely go see a TV program as the tickets are free online". ~ Stayed October 2014
What Do You Expect From The Balboa RV Park?
Cement Patios:
- Laundry Facilities
- Hygiene Restrooms
- Wi-Fi Internet
- Recreation Hall
- Full-Hook ups
- Gym
For more information, please visit the official website www.balboarvpark.com You can call us at 818.785.0949 or drop an email to info@balboarvpark.com
Write review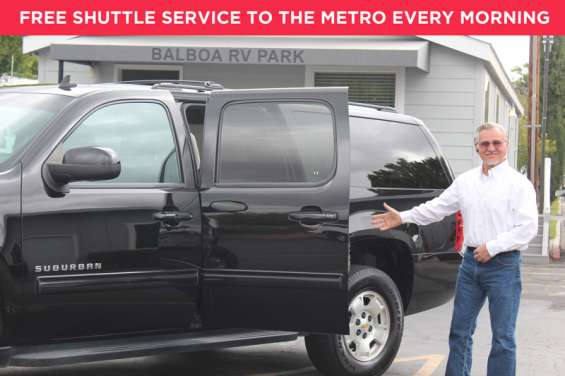 The balboa rv park is more than campground
Write review
Leave your comments on this ad
Offensive messages and spam will be removed